---
You are only seeing posts authors requested be public.
Register and Login to participate in discussions with colleagues.
---
Documentary "Duty To Document" highlights the erosion of democracy in BC, in Canada, and around the World
Public

This is a very important and timely documentary illustrating from our own governments in BC and Canada how critical records are disappearing from public view. It highlights the "triple delete scandal" from 2015 when it came to light the BC Government was improperly deleting email records concerning missing and murdered indigenous women along the "Highway of Tears". The documentary illustrates the escalating, troubling trend in the use of post-it notes and the failure to keep records. A trend seen not only in government, but in associations and corporations striking at the heart of transparency and democracy.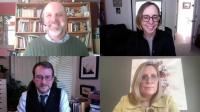 The documentary, "Duty to Document", is available as a 17 minute video and also available as a recording of the premiere on April 16, 2021 with a panel discussion. The extended premiere with panel discussion is an hour long and well worth viewing. The additional details and experiences presented through the panel discussion are very helpful to understanding the importance of the changes that are occuring. The introduction, while it is a little difficult to digest, helps to set the stage of why this is so important. Records management is key to government accountability and archives.
When Freedom Of Information and Open Government initiatives were brought in, throughout Canada and the Provinces and around the world, we did not anticipate the work arounds that would emerge. The secrecy in government. That public servants would move to an oral culture with destruction and deleting of records, allowing to fill in the history however they want. FOI laws around the world have become dead letter laws.
Political parties when in opposition are all for FOI and when in government they tend to shift their view. It's seen as a good idea when in opposition and a bad idea when in government. The Covid-19 pandemic has been used to cover the shift to an oral culture. In BC in March 2020 no minutes were kept of the cabinet meeting.
The BC Government is proud of the new Information Records Act but it is weak as it uses the word "may" not "shall" in terms of keeping records. We've gone backwards.
Public servants need to recognize they are trustees of public information and that not creating records is undermining society. Lack of trust doesn't come from transparency, but from not having transparency to show how decisions were made to show accountability.
Whether or not transparency is in the law, the duty to document is important for archival purposes.
See the documentary "Duty to Document" and the extended premiere with the panel discussion at https://www.infoandprivacy.ca/duty-to-document/
Also worth a look, "The 3D defence" https://doclounge.net/content/3d-defence-deny-delay-destroy
Groups: