---
You are only seeing posts authors requested be public.
Register and Login to participate in discussions with colleagues.
---
Highlights of the BC OSCAR-EMR Users Group Meeting
Public

Vancouver, BC - April 27, 2010
The two-day meeting held on April 19-20, 2010 in Vancouver was very well attended with over 150 people including physicians, office staff and system providers and integrators. There was a buzz of excitement throughout the two days of meetings and many "ah-ha" moments amongst those attending.
Here are three highlights from the meeting, not in any particular order: the OSCAR-CAISI integration, the MyDrugRef physician social network for sharing prescribing tips that are also displayed in the new OSCAR prescription module, and the MyOscar personal controlled health record for patients to receive and even provide medical chart information as participants in their own health care with their physician and health team.
OSCAR - CAISI integration.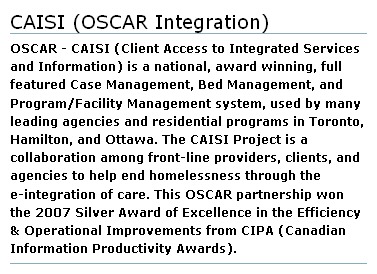 Dr. Tomislav Svoboda from Toronto gave a very captivating presentation on the efforts over a number of years by physicians, patients/clients, and agencies working together to end the plight of the chronically homeless in Toronto, Hamilton and Ottawa.
They recognized the impact of fragmentation of health care and shelter care and the resulting "revolving door" problems. They set about to find a way to offer more integrated services in a way that keeps consent in the hands of the patient/client and allows the patient/client to grant and revoke consent for their personal information to be viewed by other providers whom they can select and change. The provider can only access information in keeping with their role and without creating a permanent record of the data from the original providers database.
From this has emerged the "CAISI Integrator" which is also open-source software in the spirit of OSCAR. This technology allows providers and agencies to view only the consented information from other care provider databases as temporary records.
The CAISI project also quickly recognized the need for another view different from the schedule view common in the OSCAR-EMR; that being the case management view. Other providers and agencies such as counselors and shelters need lists of those currently on their caseload or occupying a specific shelter or unit. This would be similar to the view of a list of patients on a particular nursing home floor or a particular hospital ward.
The software enhancements developed by the CAISI team are part of OSCAR although some features may be turned off by default in the OSCAR-EMR such as the case management view. These can be turned on as needed. The CAISI enhancements have been in production and used by providers and agencies for the past five years when the first CAISI enhancements were made.
Over the two meeting days Dr. Tomislav Svoboda found himself spending a lot of time with many attendees in his more detailed workshop and approaching him with questions at breaks and other times.
For more details go to http://oscarcanada.org/caisi
MyDrugRef
What else have Dr. David Chan and his friends been up to? Everyone knows about Facebook and Twitter and now here's MyDrugRef - a physician social network to share prescribing tips and warnings.
Right there on the OSCAR-EMR new prescription module included in the next release due this summer. Specific to the medications being prescribed you can see MyDrugRef tips from the colleagues you have tagged as "trusted". It displays warnings, interactions, and reminders of important testing and follow-up including contributions of your own and those in your "trusted" group.
To find out more visit the website http://www.mydrugref.org/
MyOscar
Well, Dr. David Chan wasn't finished with showing what's new at McMaster University and elsewhere.
In his joyful, excited manner he demonstrated MyOscar. The Personal Controlled Health Record.
Different than Google Health, http://www.google.com/health, and Microsoft's Health Vault, http://www.healthvault.com/, MyOscar is an addon to the OSCAR configuration so that doctors and other care providers can directly share with the patient/client their chart information to help patients/clients participate more in their own care. Patients/clients can also use MyOscar to give back additional information like blood pressure readings or other measures their provider suggested would be useful to monitor and these can be reviewed by the provider.
MyOscar has barely hatched. You can tell by the glee on Dr. Chan's face, even as he tells it how it is. Yes, these extra communication channels with patients can be very helpful, but what if patients/clients overuse this channel to the provider's time? Each will have to decide how to use it and how to establish limits that work for them.
For more details go to, http://myoscar.org/
The OSCAR website is http://oscarcanada.org
Groups: